Home
🔩 🦦 ⚙️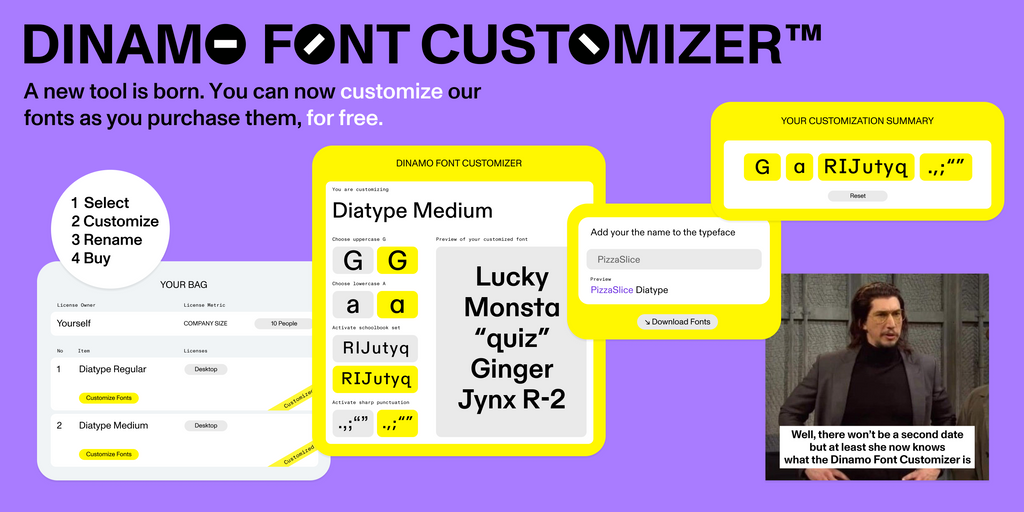 EDITORIAL
Social: Designed collaboratively by 7 people over 4 years.
🖖🤝👆🤞
Raised Everything & Lowercase
We created features to arrange and shift the characters: You can make them jump over the baseline or hang from the top. See for yourself here, or download the full trial font for free.
The License to Chill 🔫
Our new licensing model makes purchasing fonts simpler and fairer for big and small businesses alike. All prices are now based on one single number: How many people work for your company.
Discounts 4 Students
Our Student Font Packs bundle together the full files of 21 complete Dinamo typeface families for the price of €55; the price of a computer game or concert ticket. More about on our 4 Students page. 🎓🛹
Dinamo 👄 You
Essentially, Dinamo is a Swiss type design agency offering retail and bespoke typefaces, design software, research, and consultancy. Founded in Basel, we operate via a network of satellite members across the globe.