Shortnotice Studio Joins Dinamo as ADs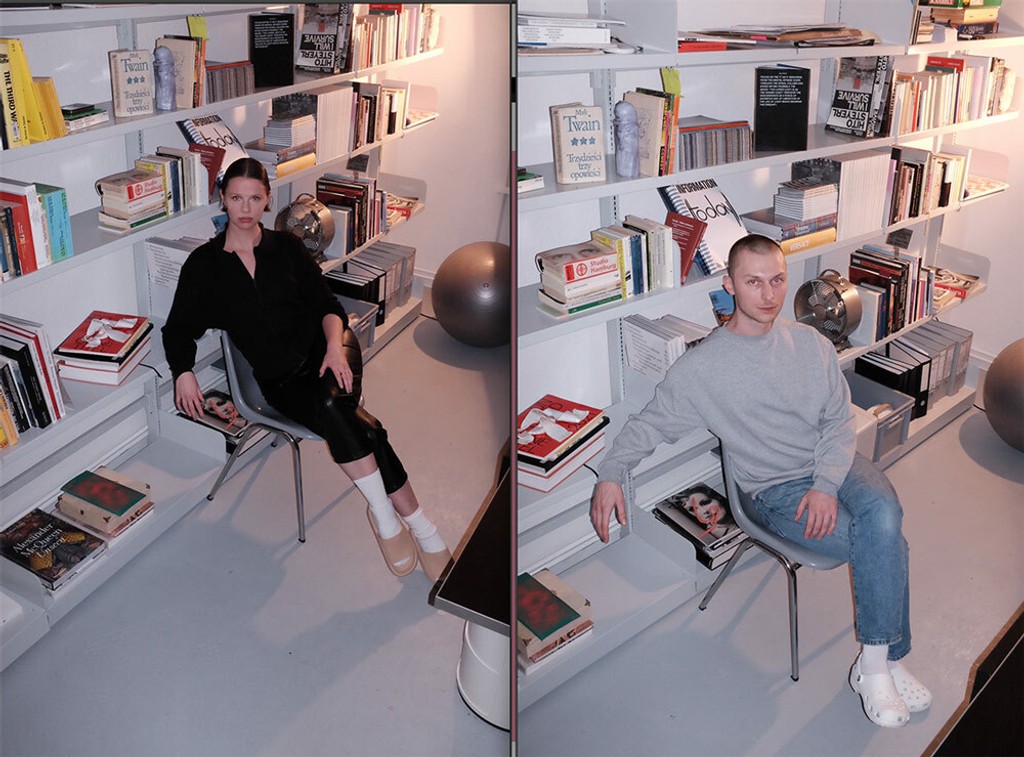 Our very dear friends Sascia Reibel and Mathias Lempart of the one-year-old Shortnotice Studio have boarded the Dinamo ship and will be taking our art direction and Hardware to new heights in the years to come.
We think that what Shortnotice is building is next level. They aren't service providers, they're world builders. We're thrilled we'll be on the receiving end of some of their fire. And it'll be a nice challenge for the Dinamo-Boomers to play catch up with them as we work together!! :-) Spring, we already know, will be filled with Shortnotice collectors' toothbrush sets (finally) along with something soft to lie on when it's warm outside.
While Shortnotice is mostly based in grey Berlin, Mathias spends the winter months in the sun of Paramaribo, Suriname with his partner's family. And so we caught up with him and Sascia remotely to chat about our new partnership.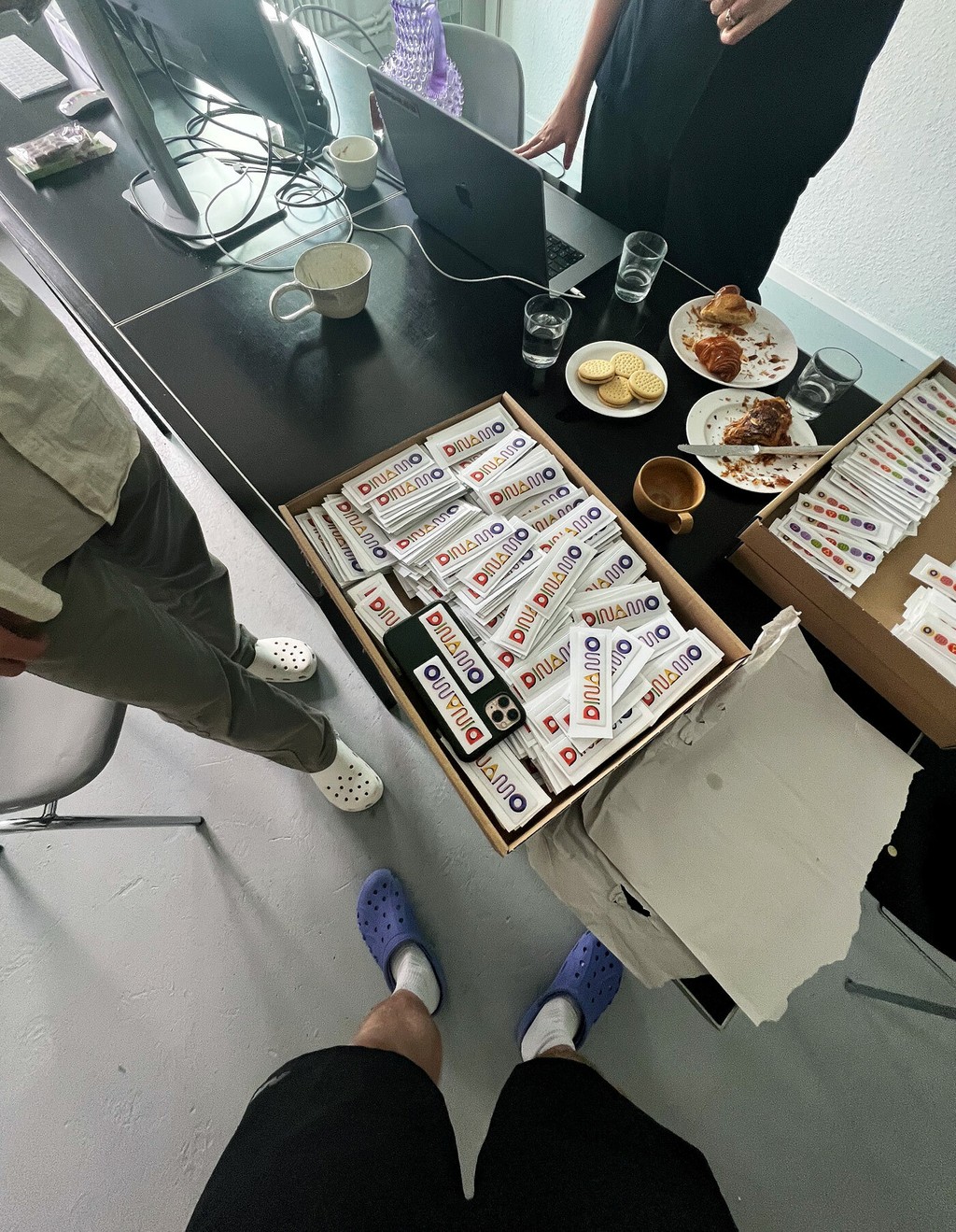 The Interview
What are you both looking forward to with our new partnership?
It means a lot to us. Firstly, it means collaborating with our favorite type designers, which we're very excited about. But on top of that it means putting new fonts to use. In other words: This feels like a playground we hope we never grow too old for!
How do you think about the life of physical objects in your own practice?
We really enjoy acknowledging the objects that follow throughout the day—whether an iPhone charger, a subway tickets, or the vanilla color of the sky—and letting that inspire our work. Being able to create hardware we spend our every day lives with gives us a chance to shape our surroundings further, and to go beyond the limits of a classic two-dimensional printed sheet of paper.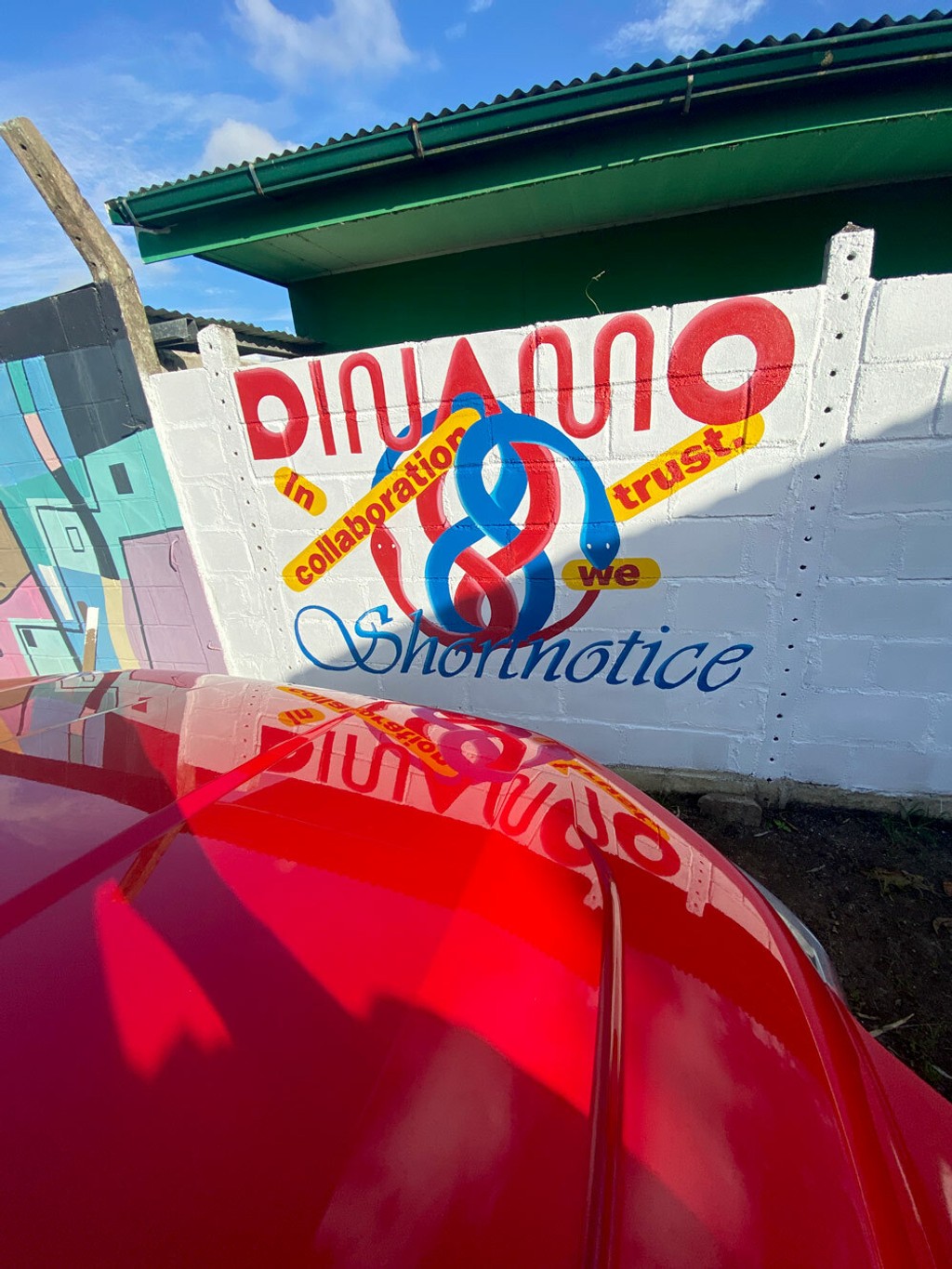 Tell us about the Dinamo x Shortnotice MURAL you just painted in Paramaribo!
To celebrate our new collaboration, we commissioned a mural in the center of Paramaribo, the capital of Suriname. In general, painted advertisements are on almost every commercial building of Suriname—it's just as common as printed billboards.
We've long admired these murals, and Mathias has worked locally on them before, while also collaborating with a nearby restaurant and chicken farm. We've always appreciated how these murals are based on digital designs with popular fonts and 3D effects, and we were looking for an opportunity to create one as Shortnotice. And so, we designed the Dinamo mural and commissioned Fabian de Randamie to bring it to life.
Fabian is THE billboard painter in Paramaribo and we were thrilled that we got to work with him. He and his brothers, Rayen and Guillermo De Randamie, painted the design in four days. First, they drew the letters with a sharpie, and then they filled them with colors and shadow. We learned a lot about the craft of mural painting from collaborating with them.