Meet the Team: Fabian Talks About His Storage Problems (Chairs)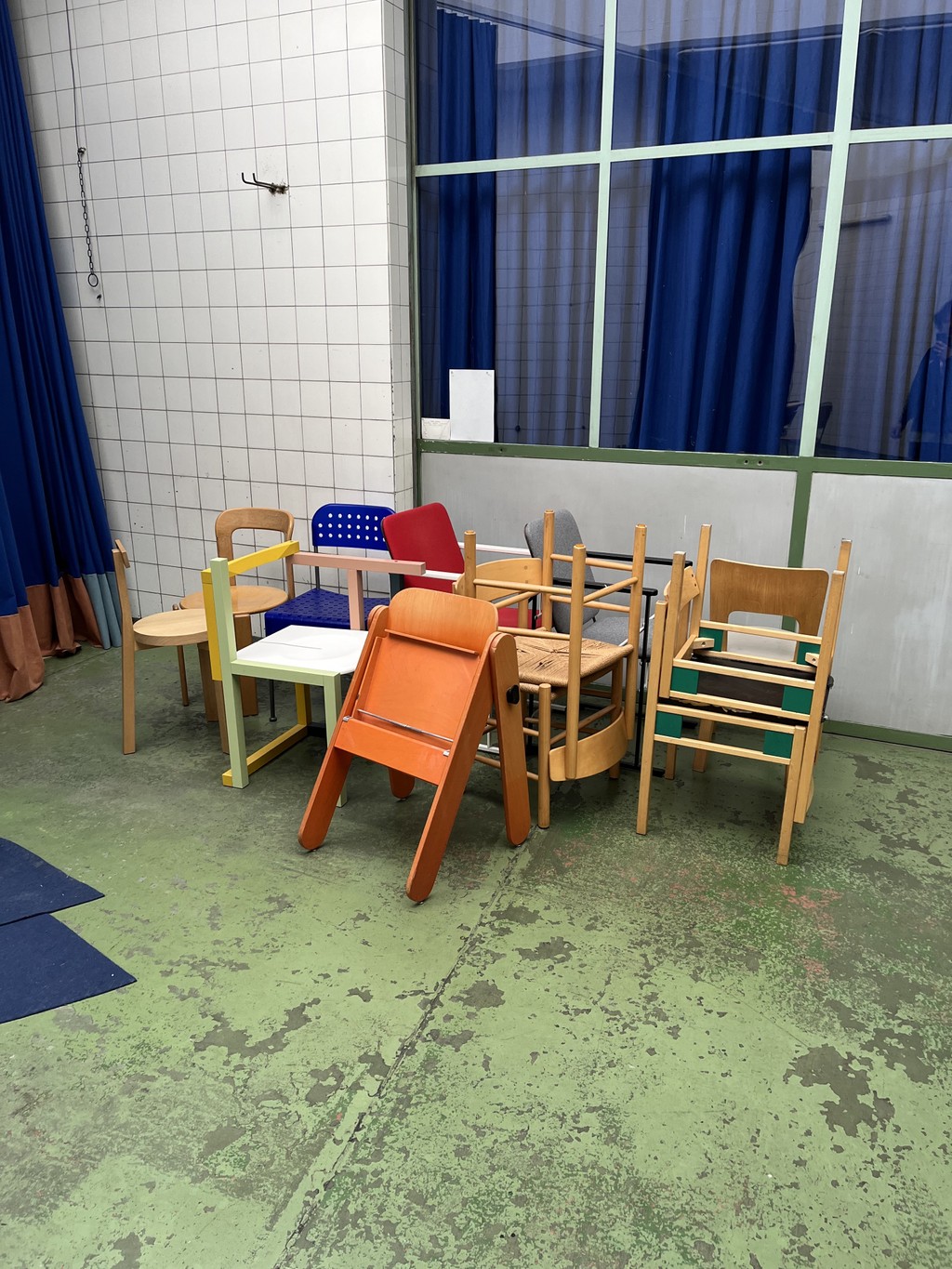 Fabian collects a lot of things and has storage problems not only on his computer but also in his studio. Storage problems everywhere. So I spoke to him about what he calls his "chair mess."
I rarely sit on the same chair for more than a week. I think I have maybe 40 or 50 of them at the moment. My home doesn't have a lot of space, so I keep most of the chairs at my studio in Porto where we have more chairs than we do people (I'd say it's a ratio of 4:1).
I love going to thrift stores and searching for surprises in the abyss of the Internet, so I never buy new chairs and I always get them second hand. Accumulating chairs is like an investigation — it's similar to when I first got excited about typeface design and collected books and specimens so that I could compare different genres. Chairs are also more functional than type specimens. But I might have a few too many of them right now…
1. Box Chair by Enzo Mari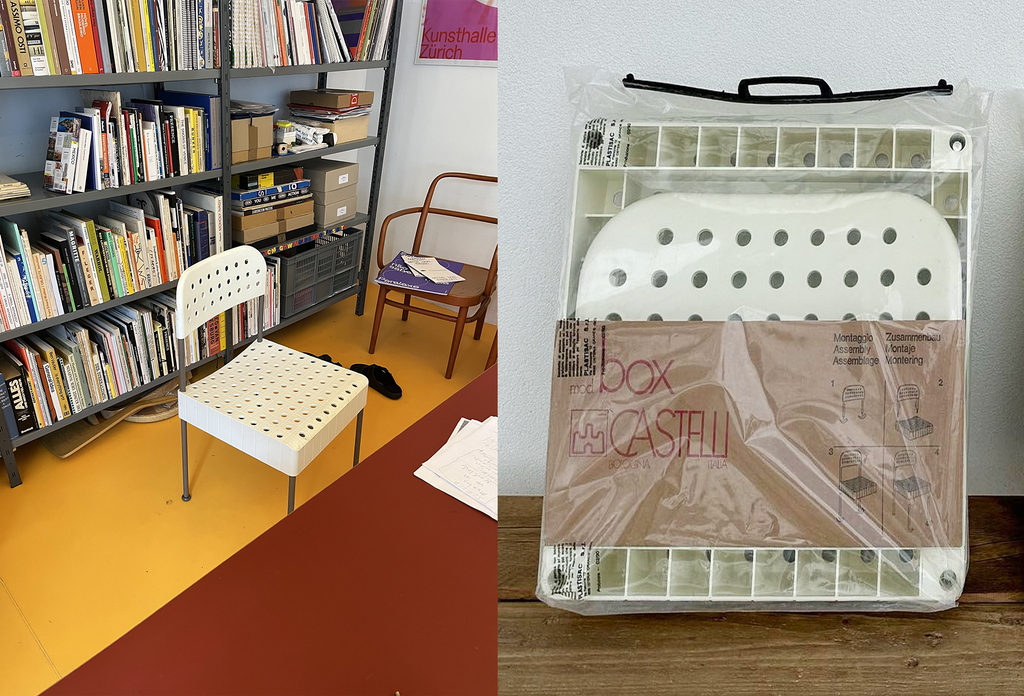 This is the chair that I sit on the most. It's Enzo Mari's "Box" chair from the 1970s. The idea was that when you bought it, it would come folded together as a box in a plastic bag. Everything can be unscrewed and put together again. I got mine from the Italian version of ebay — someone was using a few of them as garden furniture. When the set arrived, I spent a long time cleaning them. I gave one to Johannes. And then I sold another one of them, which paid for all the rest of my chairs.
2. Experiment lounge chair by Yrjö Kukkapuro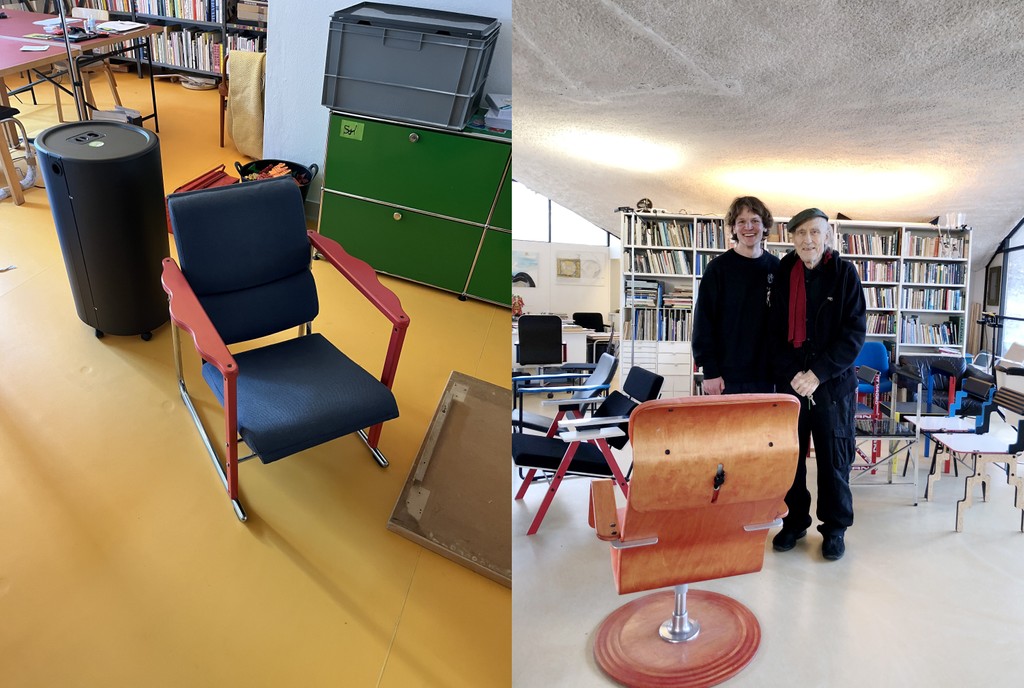 This chair on the left is by Finnish designer Yrjö Kukkapuro. Years ago, when Johannes and I were teaching at the art academy in Tallinn for a month, we took a trip to Helsinki and I saw a Kukkapuro chair in a second hand shop. It wasn't for sale as someone else had just bought it. So I started to search for his pieces and eventually found one on the Swiss ebay, ricardo.ch. I was living in Berlin at the time so I had to send it to my mom's house. Eventually, I also found one of his rocking chairs via a Finnish auction. And then a few years ago, I actually visited him in his studio in Helsinki.
3. Stuhl by Susi and Ueli Berger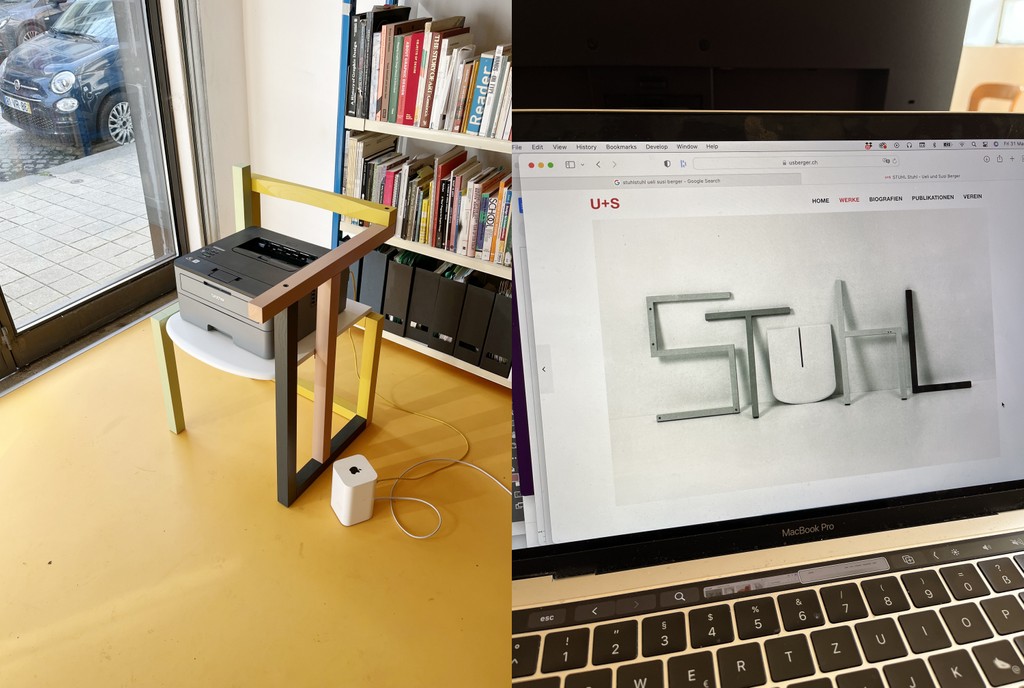 When you unscrew the parts of this chair by Susi and Ueli Berger, each of its elements makes up the letters for the word "stuhl." That's "chair" in German. The designers actually wanted to make another version that spelled out "chair" in English, but it was never realized. And they made a table from the letters "tisch" (which means "table"). I got this one from the carpenter who used to produce furniture for the couple, and he still had some pieces left. I was really lucky!
4. The YOYO² stroller by Babyzen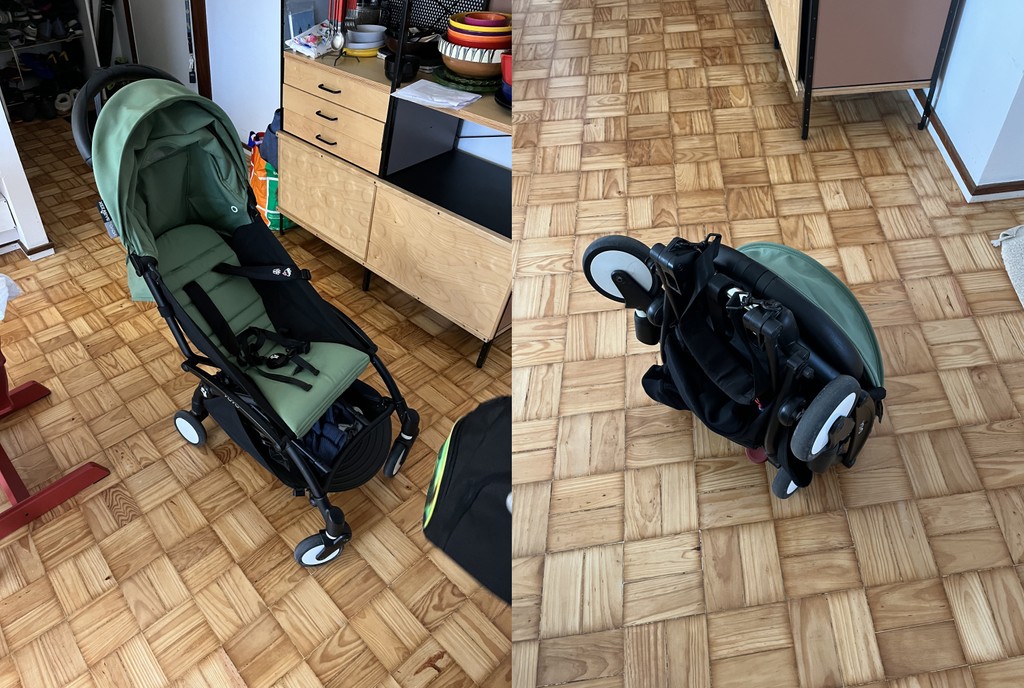 Actually, this is the chair I use the most right now. It's a collapsible pram called the Yoyo. We got it before a recent trip because you can fold it down into one piece, which is amazing when you travel. Especially when you're alone with the pram. It also has a great rain cover. This is actually my son's second pram already.
5. Landi-Stuhl by Hans Coray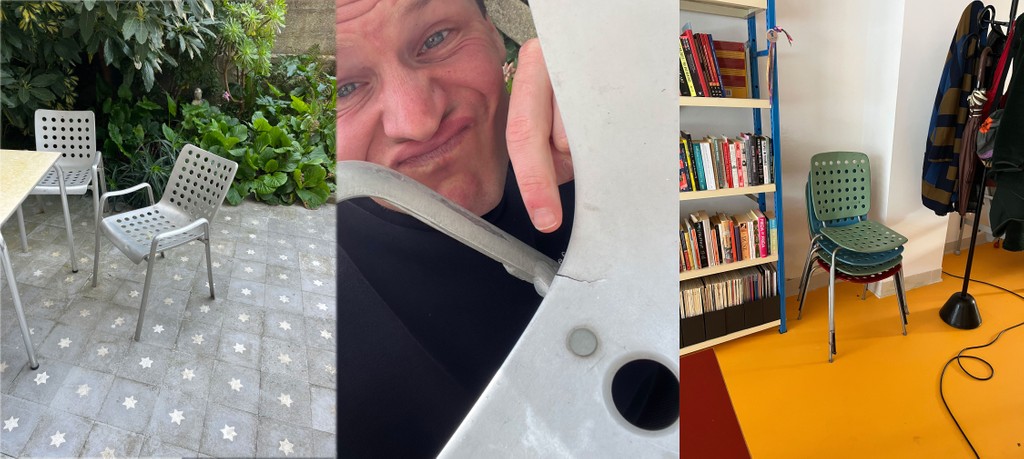 I keep these chairs by Hans Coray outside in the garden. They were made in 1938 for the Swiss "Landi" expo, and one of the first chairs to be made from a single, bent sheet of material. It was the same time as Eames and Saarinen were making chairs from one piece of plywood. This one, though, was made from aluminum, a material that Switzerland used a lot during that time. The only problem with it is that it cracks very easily, which is why Coray redesigned his own chair later on and made the seat from two individual pieces. I got an early set of those from an ebay-seller on the Swiss-Italian border, who did not identify the model and luckily just listed them as "metall chairs."
6. Modell 3300 by Bruno Rey for Dietiker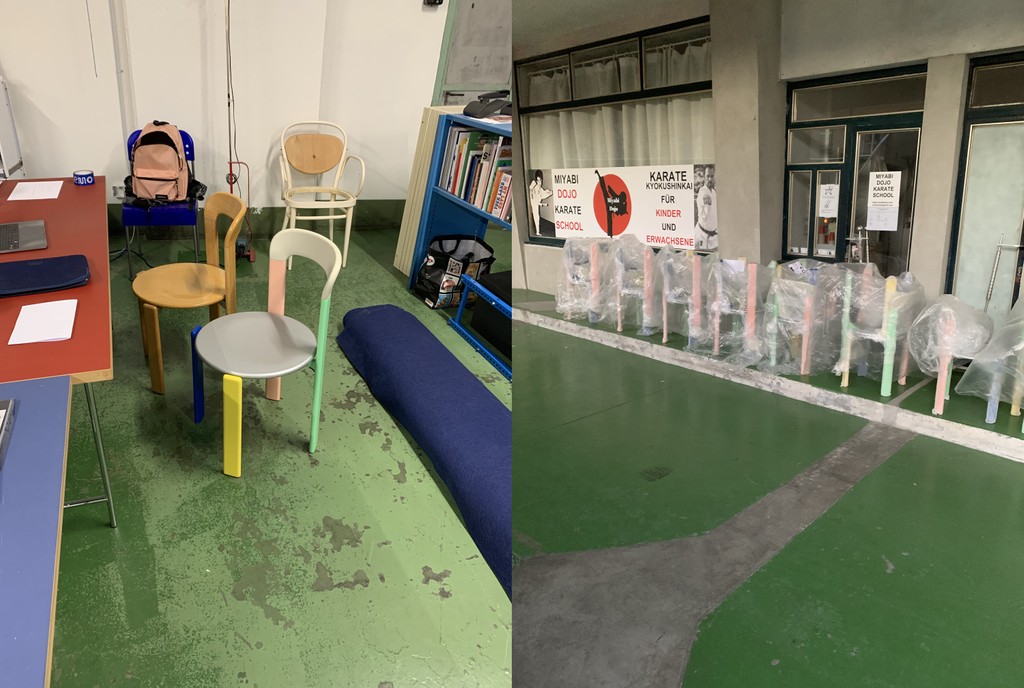 This last chair is very special to me. It's the 3300 Dietiker chair by Bruno Rey, the most produced chair in Switzerland, and we created a Dinamo edition of it together with Maximage a few years ago. You find the standard version in every hospital, town hall, or public library in Switzerland. At an archive, I saw a version of it with different colored legs that the company used to take to trade fairs. With it, people could see different color possibilities. I immediately wanted one of the multicolor ones, but when I called Dietiker to ask about it, they said they don't make them anymore unless you order a batch. So I convinced Johannes that we should make a multi-colored Dinamo version of the 3300, with our friends at Maximage selecting the colors.